The Man Behind The Mouse..
We all know "that it was all started with a mouse." However, did you know that the idea for Disneyland started on a bench? Walt would often have a "daddy's day" with his daughters, Diane and Sharon, at Griffith Park in Los Angeles. As they rode the Merry-Go-Round, Walt would find himself sitting on a park bench, wondering about the possibility of building a place where children and their parents could have fun together. It was there that Walt came up with the idea for Disneyland. Today, we have our own piece of history at the Main Street Opera House in Disneyland park where you will find Walt's original bench from Griffith Park.

By mid-1954, Walt's idea for Disneyland finally became a reality when he broke ground on a patch of land in Anaheim, California. Walt was dedicated to this project and found himself spending many hours at the Disneyland construction site. However, Walt and his family lived more than 40 miles away. Thus, Walt had an apartment built above the Main Street Firehouse to ensure that he could spend more time at Disneyland and could be a part of every step of the creative process.
The apartment, which is still located above the firehouse, is 500 square-feet and has two twin hide-a-beds, a kitchenette, a powder room and a bathroom with a shower. In the kitchen, Walt had a small machine that he used to make grilled cheese and heat up chili, two of his favorite foods. The apartment was designed by Lillian Disney and the Academy Award winning set decorator for Mary Poppins, Emile Kuri.

Walt's private apartment isn't typically open to the public, but VIPs are occasionally offered tours. The furnishings remain virtually unchanged from when Walt used to spend time there, including a lamp in the window visible from outside. It's always kept on to signify that Walt is always in the park.
He is an inspiration to me, an aspiring creator with a vision, of course, no where near close to being a Walt Disney, but still having a dream to make a difference in people's lives. As we look back and thank Walt for all his accomplishments, we have to also take into account all the defeats, failures and critics that came against him. I believe that these things inspired him, yes, motivated him to succeed, not only to show others what could be achieved but to prove to himself that when you believe in what you are doing for the right reasons, 'the dreams that you wish will come true'.
In honor of his birthday, here are some little known facts about Walt Elias Disney.
WALT DISNEY WAS A HIGH SCHOOL DROPOUT.
Walt was just 16 when he left school to join the Red Cross Ambulance Corps, wanting to do his part in World War I. But because he was just shy of the minimum age requirement of 17, he forged a different date on his birth certificate. Disney didn't see much action, however. He was sent to France in late 1918, not long after the armistice was signed that ended the fighting. He still helped where he could, driving Red Cross officials and performing other tasks, before he was discharged in 1919. Later, Walt also created flyer and propaganda material for the war effort, helping to encourage people to donate part of their taxes for bonds to help support the troops.
WALT DISNEY ALMOST SOLD VACUUM CLEANERS FOR A LIVING
In 1923, Walt joined his older brother Roy in L.A. to pursue a career in animation. Roy had been selling vacuum cleaners door-to-door to make ends meet and encouraged Walt do the same. Walt considered it, but before he could get sucked in by a Kirbyesque scheme, he got a call from a company in New York that wanted him to make shorts for them.
MICKEY MOUSE WASN'T WALT DISNEY'S FIRST BIG CREATION.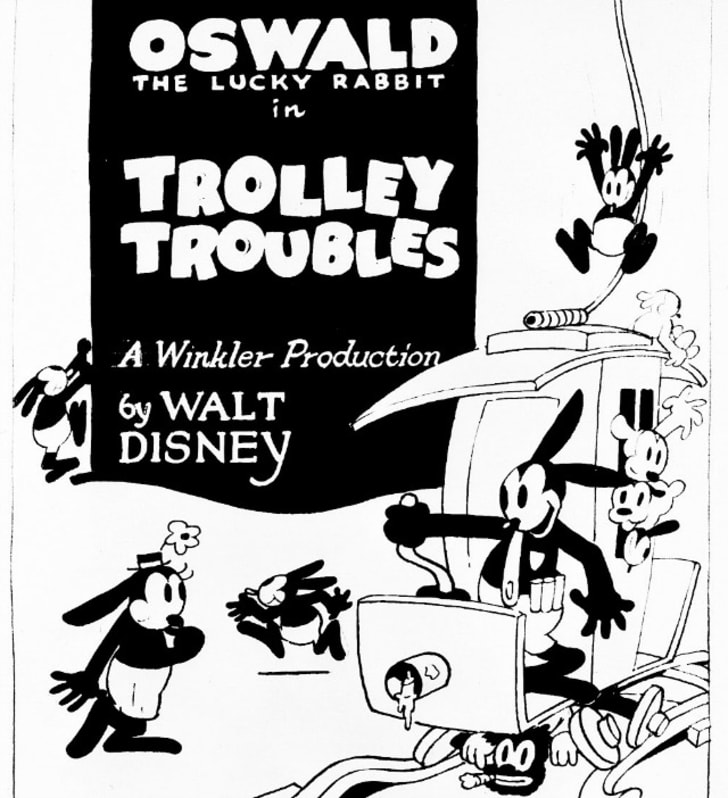 In 1927, Universal, yes, Universal, asked Walt and his chief animator Ub Iwerks to create a cartoon character for them; the result was Oswald the Lucky Rabbit. Oswald was a huge hit, complete with robust merchandising. With this success under his belt, in 1928, Disney went to New York to renegotiate his contract with producer Charles Mintz. Mintz, however, countered with a different deal: He wanted to cut the budget. And to add salt to the wound, Mintz had been working backdoor deals to hire Disney's animators out from under him. In the end, Universal ended up with the rights to Oswald, and Disney left New York feeling as if he had lost almost everything. But it all worked out in the end—on the train ride back to California, Disney sketched a character that would eclipse Oswald in popularity: Mickey Mouse.
The company regained control of the obscure character in 2006, almost eight decades after losing him. The rights were part of a trade between Disney and NBC/Universal: They agreed to let Disney have Oswald back, and Disney, the owner of ABC and ESPN, agreed to let NBC use sportscaster Al Michaels for Sunday Night Football.
WALT DISNEY DID VOICE MICKEY MOUSE
From 1928 to 1947, Walt was the man behind the mouse—literally. Even after the voice work was officially turned over to Jimmy MacDonald in 1947, Walt continued to do Mickey's voice for shorts on The Mickey Mouse Club.
WALT DISNEY'S FAVORITE SONG WAS "FEED THE BIRDS."
There have been a lot of toe-tapping hits in Disney movies over the years, but Walt's personal favorite was a ballad: "Feed the Birds," the song about the pigeon lady in Mary Poppins. According to songwriter Richard Sherman, Walt often stopped by the Sherman brothers' office at Disney on Friday afternoons and requested a personal performance of "Feed the Birds." "He loved that song, and knew it was the heartbeat of the whole movie," Sherman said.
WALT DISNEY'S HOUSEKEEPER WAS A VERY WEALTHY WOMAN
Thelma Howard was the Disney family's live-in housekeeper and cook for three decades. She was hired in 1951 and quickly became part of the family, even making sure the fridge was well-stocked with hot dogs—Walt liked to eat them cold as a snack when he got home from work. As part of her annual Christmas gift, the Disneys gave her stock in the company. She never did anything with her shares, and by the time she died in 1994, the woman was a multimillionaire because of them. She left nearly $4.5 million to poor and disabled children, and roughly the same amount to her disabled son.
Walt Disney had a vision of a theme park where children and parents could have fun together and told a colleague that he wanted it to look "like nothing else in the world." Originally, the park was to be situated on 8 acres next to the Burbank studios, but as his vision grew, it was clear that this wouldn't be enough space. Always the creator and visionary, Walt Disney was not satisified with Disneyland and therefore looked for a larger property, finding miles of acres that were available in Central Florida. It took him years to secure enough property (doing so through made up companies even) before he could start building Disney World. It would become the dream that he had wished for but unfortunately would never see, well, not from an earthly point of view.