Magic Does Exist Outside of the Parks When You Stay in One of these Magical Vacation Homes!
Thank you to Magical Vacation Homes for hosting us for an amazing opportunity to see this gorgeous home and raise awareness and money for Give Kids the World Village
Planning a trip to the most 'Magical Place on Earth' is an adventure in itself, and wanting to stay close to parks is always important. But did you know that there is an incredible option to staying in the parks? Come, as we give your our experience staying at one of the Magical Vacation Homes in Kissimmee.
First, let me say, that this was my first time staying or even seeing one of the Magical Vacation Homes and I was blown away. Secondly, this was a hosted stay, generously provided to us to be able to bring our Magic Streamdom family together (at least some of them) to raise awareness and money for Give Kids the World Village. It afforded us the ability to meet up, get to know each other and our families more, and stream, yes, ALL at the same time, showing audiences different and fun perspectives in real time of what everyone was doing in the house, of the house and because of the house. Lastly, shout out to all the content creators that were able to participate Monday evening and showing your support and hard work in raising money for Give Kids the World Village, showcasing to your audiences the amazing home that was the most awesome backdrop and we were so gratefully able to do this fun and inspiring event from. Our total for the evening once added it up from all sources was over $5700, exceeding our goal for the night!
Now, let me tell you about this home. We stayed at the Ultimate Retreat, which is nestled in the Reunion Resort community only 4 miles from the parks. However, being in this home looking over the pool onto the expansive and beautiful golf course, surrounded my incredibly amazing homes, you feel far away from the hustle and bustle of Orlando.
Walking into the home youre eyes go directly to the back of the house (which is a distance away) flanked with glass sliding doors so the view of the pool is not obstructed looking out onto the golf course and the sky. But when you come in, you are greeted by two rooms that, well, I have never seen in a home before. According to which way you look, there is an amazing movie room/game room, fitted with a basketball game and a ski ball game both on either side of lush, leather recliners, equipped with massagers, facing a huge projector screen to watch your favorite movie anytime you like. Themed like you are floating in space, this room is totally out of this world! To the left is a fitness room, equipped with the most popular fitness machines from elliptical, rowing machines, treadmills and yes, a TV, as well as a bathroom so you can have fun and not miss your work out while on vacation.
Moving down the hallway is a bedroom, or suite as is it listed on each side, one of 10, yes 10, that are in this huge home! They are suites as they are not only beautifully decorated and as large as any room that you would find in a hotel or resort but all of them have their own private bathroom! Let me say here also, there are 13 bathrooms in this home!! Amenities are included in each bathroom as well as hangers in each closet (some suites have two closets), towels, extra blanket and pillows, really everything you would need for a comfortable stay.
Then there is the living area and kitchen/dining area. This open concept space is a hosts' dream for entertaining or gathering your family for fun and food. The decor is fun and contemporary but very cozy and the colors lend to the openness and "Florida' feel. From the huge sectional comfy couch to sit and watch the big screen TV from to the half moon island in the kitchen that can easily gather 8-10 people to the marble formal dining table that seats 15 (with bench seats!), this home is meant to easily accommodate a large family reunion, multiple families vacationing together, corporate meetings or even fundraising efforts by multiple content creators! Equipped with stainless steel appliances from two ovens, a huge side by side refrigerator, dishwasher, multiple sinks and a floor plan that is meant to give plenty of space for whatever type of entertaining or event that you are having, it was perfect for us and I know for you as well.
Walking out the sliding glass doors (there is also a regular door on the side) you enter the patio or lanai, which is like four in one! Covered completely, one side has a huge counter space area with a sink, (there is also a bathroom right at the entrance of this) multiple rattan tables and chairs, couches, a BBQ area with an amazing grill that will hold at least 12 -15 burgers easily (we tested it so it is true), a ping pong table and of course, the incredible pool and spillover spa. Pictures do not do this justice as this space was huge!! We also loved the fact that the sliding glass doors have an alarm built in in case they are opened as well as there is a "fence" along the pool's outside edge to make sure that little ones do not come into the pool area without supervision. Although we teased that the alarm was going off a lot, it was a super valuable "extra" that Magical Vacation Homes installed to make sure that your family is comfortable and safe while staying at the house.
Now, to be honest, I have never seen nor been in a pool this big in a private home and frankly did not know what a 'spillover spa' was. The pool was huge (and heated) with lighting for at night, a "bench" to sit on in the "deep"end and a sun shelf (learning many new things here) that have two loungers on it so that you can sun and sit in the water to stay cool at the same time. If you like, you can "hop" over from the pool on the sun shelf and jump into the hot tub, with jets that were on point and big enough to fit at least 10 people comfortably. We had an amazing time in the pool, doing challenges such as the "silly salmon" to the finale ensemble performance of synchronized swimming. You can even sit on the patio upstairs and look down into the pool and overlook the golf course while comfortably sitting in the plush chairs. That brings us to the upstairs.
Small touches make this home and you can see it in the stairs. They are beautiful, decorated with wood like the flooring in the main room and again, give you that resort feel. Once you are up the stairs, you come into another amazing common area meant to entertain and keep your family and friends busy for hours. From a beautiful billiard table to foosball, air hockey and some kind of shuffleboard game, surrounded with modern lighting, artwork, a sink area and bedrooms, this area was mind blowing. Who even thought of this!!!
But oh, that is not all my friends. The second game room is a gamers dream come true, bringing MindCraft to life on the walls and equipped (very orderly I may add) with four 50 in TV screens, a gaming couch, four Xbox One consoles or on one of the four PS4 consoles. I know a few people that would never come out of this room for probably the entire stay, including myself!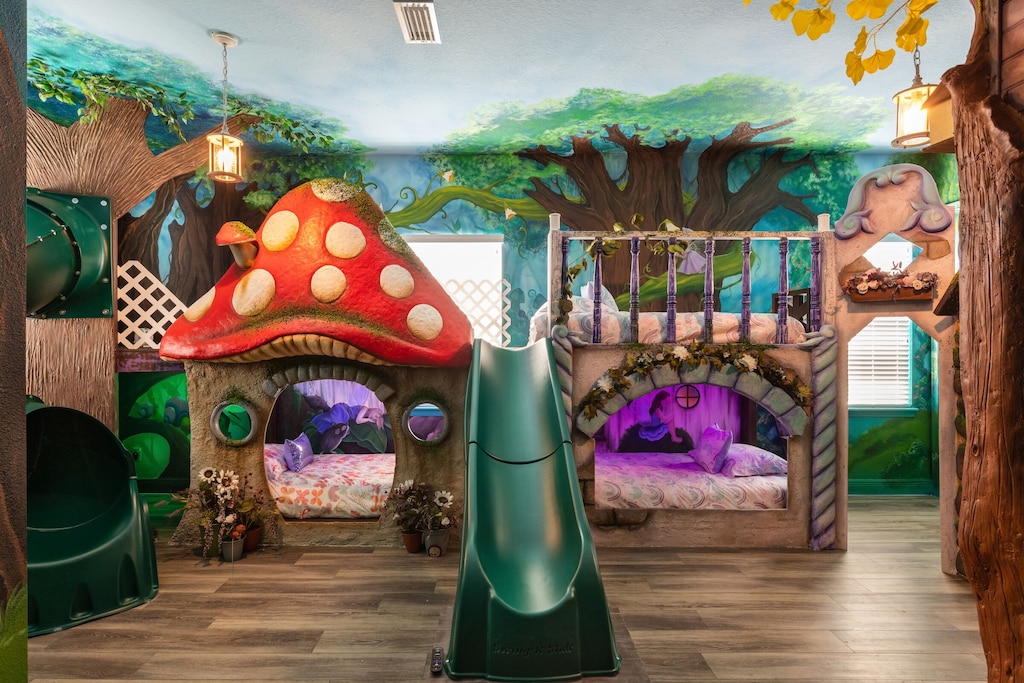 Also on this floor are another are five master king suites with ensuite bathrooms and 65-inch SMART TVs, a suite with 2 full beds and a 65-inch SMART TV, and a large kids bedroom. Now let me tell you about this kids room. I would have killed to stay in a room like this when I was younger and frankly, would not be ashamed to say I would like to stay in it today. Your children will be in awe when they step into this magical garden designed room filled with surprises in every corner. The room has 4 custom-built bunkbeds, multiple slides, a 65-inch SMART TV, and more and two slides, YES SLIDES!! We also loved the touches here again as even the sheets and pillows on the beds were themed to the room, some with rainbows others with flowers, all complimenting the overall decor of the room. The detail in this room was something like I have never seen and I suggest you check out the stream to be able to appreciate it. I would venture to say that this room is so awesome you may never see your kids the entire vacation. It is perfect for a multi family vacation or if you kids want to bring their best buddies along. The other bedrooms are beautifully decorated, each with a huge accent wall behind the bed and furniture that would rival any theme park resort.
Lastly, if this is not enough to keep your family or party occupied, when Ultimate Retreat or any of the Magical Vacation Homes here, you also have the added amenities of Reunion Resort. Don't want to drive to Walt Disney World or don't have a car? No problem. You can take the shuttle from the resort to Magic Kingdom and back free of charge. You do need to make a reservation however, and space is limited so be sure and do that as soon as you know your plans. From playing a round of golf on one of the three signature courses, getting in a game of tennis, miniature golf and even foot golf and pickle ball (we MUST come back and try these out!) bike rentals, golf cart rentals, kids playground, bocce ball…omg, the list goes on and on. You may not even have time to go into the parks!!! There is even a waterpark and a gift shop!! Incredible!
All I can say is this was one of the most amazing experiences that I have ever had staying in a vacation home and I know that my fellow content creators who were a part of it agreed. I cannot thank Magical Vacation Homes enough for hosting Magic Streamdom's fundraiser and allowing us to come in and show off this unbelievable and yes, Magical home! If you and your family are looking for a place to stay close to the parks, with amazing space for everyone all under the same roof and incredible amenities included, I would highly recommend looking into this home. The homes are in a gated community and there is a limit on capacity in each of the homes but there are many floor plans and size accommodations to choose from just right for your family or gathering.
I also want to thank all of the Magic Streamdom partners that stayed overnight and those that came to lend their support, platforms and more over help us reach out goal for Give Kids the World village that evening. Whether they got pied in the face, had to be a fish, drank concentrated cotton candy, had an ice chest poured down their back, it will absolutely be a night to remember and cherish and live on YouTube forever. It certainly will not be the last. Thank you to Touring the Galaxy, That Disney Girl, Drew in the Moment, Florida Park Explorers, Ear to Ear Magic, Sorcerer's Apprentice Andy, EarsomEmporium, Piano Rob, Alice Clark Payne, That Crazy Disney Lady, Healthy Dose of Disney, Mark Daniel and Mds Figgy, and a shout out the children of the some of these channels who were such a big help in filming, taking pictures, cleaning up, or helping with challenges. It was great to not only get to talk and maybe meet some of the channel partners for the first time but it was awesome to see the kids being able to make new friends and form friendships as well. Thank you as well to the channel partners that joined the stream to be amazing cheerleaders and especially to everyone that watched the multiple streams, supporting each streamer at the same time in what we call 'stream hopping' and encouraging, donating and helping us reach out goal. It truly meant the world to each and every one of us.
If you would like more information or would like to book go to: https://www.magicalvacationhomes.com. If you would like to look at the home that we stayed in, please check out the content that our Magic Streamdom partners put out whether it be my stream or streams from Drew in the Moment, Touring the Galaxy, Ear to Ear Magic, Florida Park Explorers, EarsomEmporium or vlogs and IG stories from Piano Rob, Andy Baughn, Healthy Dose of Disney, That Crazy Disney Lady and more.
Want to see this house for yourself? Check out the stream (as well as the streams from the other partners that were there). You can also still donate to Give Kids the World with the link in the description now until December 5th.
Spokesmayne, Magical Vacation Homes, PC: Children of Drew in the Moment