IMMERSE Comes To Downtown Orlando
One of the most awesome events that come to Downtown Orlando is "IMMERSE', a 10 block span of incredible artistry, music, presentations, performances and more for a three day long weekend event. Frankly, I had heard of this, but had never been to it, which is super surprising given that I have lived here for so long and that I pride myself on bringing new, energetic and fun content to my audience. This was one of the most fun and incredibly well…'immersive' things that I have ever been a part of and was so glad that we had the opportunity to be here first hand.
As part of the Visit Orlando takeover, we were invited to experience all that this incredible street fair has to offer. It is just what the name implies, in the truest sense of the word, it is 'immersive'. Described best on their website as experiencing a world where artists break past the stage and invite you into their performances. Where technology fuses with the performing arts right in your midst, just within reach.
This year, while we were their over the weekend, performances of cirque de solie, ballet, modern and more along with pyrotechnics that were phenominal, artists making magic with their hands and brushes and more all along the streets, from large stages to small venues. The Dare to Dream Stage on Orange Avenue was right in front of City Hall and was totally incredible.
The Orlando Magic drumline was there (honestly, I never knew that the Magic even had a drumline) and they performed on a 50′ tall scaffolding structure! How cool is that! They were great and really got the people on the street moving to the beat.
20′ LED walls encourage guests to paint with their bodies in the "Art of Athleticism" venue from Orlando Health.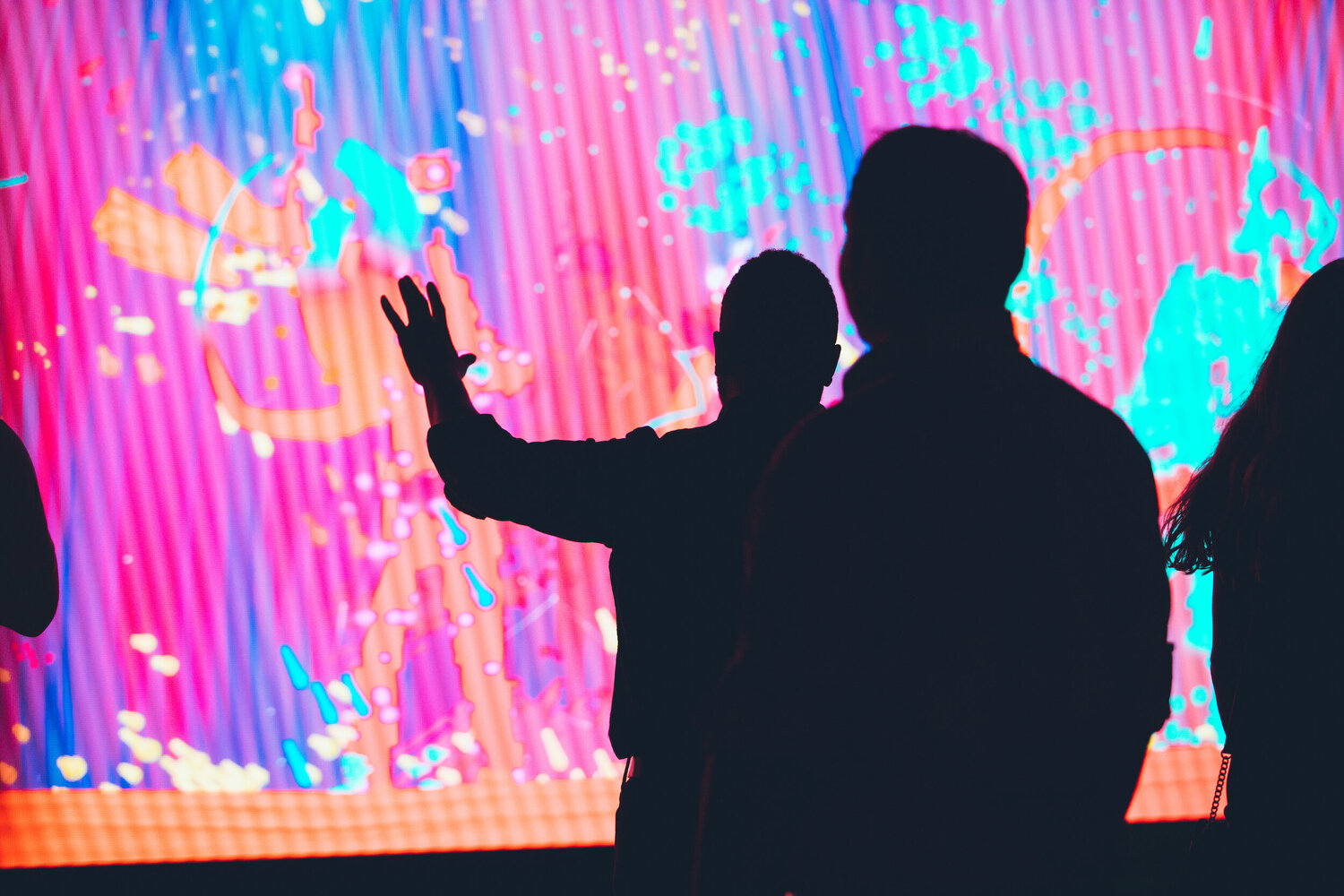 There was tons of live music from 130 piece orchestras to women of Lake Mary Step team to the Asian Cultural Association. Music is a universal language and this event truly shows how music brings people together no matter their backgrounds.
Each day over the weekend had a special installation, as they call them, built into IMMERSE event and here were just a few:
JOYBOX is an immersive and interactive art exhibition bringing JOY to life.
X Factor, presented by Stax: Immersive photo environments in shipping containers encouraging everyone to embrace our X-Factor.
EA SPORTS Zone featuring Orlando City and Orlando Magic: Now you know that this one had my interest peaked and it was so amazing. EA SPORTS celebrates their move to Downtown Orlando with this high-energy activation.  Orlando City brings the fancy footwork of a soccer ball juggling team, and the Orlando Magic's dynamic entertainment, Magic Beatz and The 407 will wow audiences throughout the night.  The EA SPORTS Zone also featured a mural painted by kicking and throwing paint covered balls at the walls.
The last day, Sunday, was COLOR DAY (New third day to IMMERSE 2021): Here we became the canvas in the all-new 2021 experience.  Colored powder fights, paint explosions and bright eruptions of foam.  Honestly it was incredible but I did not take my camera in as I was having a little anxiety about some power or paint getting somewhere that it was not supposed to be. But it was a totally unique experience and I recommend it experiencing it next time it comes.
Overall, IMMERSE was a great event and we will definitely make it a priority to attend next year. I will absolutely be bringing you along so that we can check out everything together and who knows, maybe it will become a fall tradition!!
Thanks again to Visit Orlando for hosting this amazing opportunity and be sure to follow them on Instagram at https://www.instagram.com/visitorlando/ for all the amazing content coming out about our adventures!
Spokesmayne; IMMERSE