Gators, Ghosts and Goblins Make a Toothy and Ghoulish Return to Gatorland Orlando
Gatorland's Popular Gators, Ghosts and Goblins Returns For Third Year Of Family Fun and Fright Done Right!
The "Alligator Capital of the World™" is bringing back its popular Gators, Ghosts and Goblins™ Halloween event for a third year in a row. This has to be one of the most unique and fun event of the Halloween season and nothing says "Florida OG" more than a creepy swamp filled with ghosts, Octoberfest monsters and scaly creatures. The all-ages, daytime, family-friendly event at Gatorland® takes place weekends from Oct. 9 through 31, 2021.(Included With Park Admission Oct. 9, 10, 16, 17, 23, 24, 30, 31)
Search for Cryptids, animals which are generally believed to be legendary in mainstream biology, in "The Crocs and Cryptids Zone" where you might find Gatorland's very own Skunk Ape while you search for hidden cryptozoological beasts. Then grab your Lederhosen for Frank & Stein's Ooky Kooky Octoberfest, featuring live music from "Polkageist," Gatorland's own undead polka band, as well as German beer and food for purchase."
"Swamp Ghost's Monster Museum" returns this year, too. Dare to enter Swamp Ghost's lair and learn the origins of the world's most infamous monsters… and maybe come face to face with a ghoul or two.
All this, plus multiple themed haunt zones, interactive characters, animal meet-and-greets, and the popular Children's Halloween Costume Parade with treat bags for all the kids who participate is included with park admission. The fun keeps coming with amusing shows, games, candy giveaways and much more! Guests are welcome to wear costumes (just nothing scary or gory please, since Bubba and Skunk Ape are easily scared).
"We are beyond excited to bring back Gators, Ghosts and Goblins for the third year in a row," said Mark McHugh, President and CEO of Gatorland. "We just love Halloween and all the fun, spooky and kooky stuff that goes along with it. Can't you tell?"
Admission tickets available at www.Gatorland.com or at Gatorland admissions. For additional information, call (407) 855-5496 or visit: www.Gatorland.com.
What is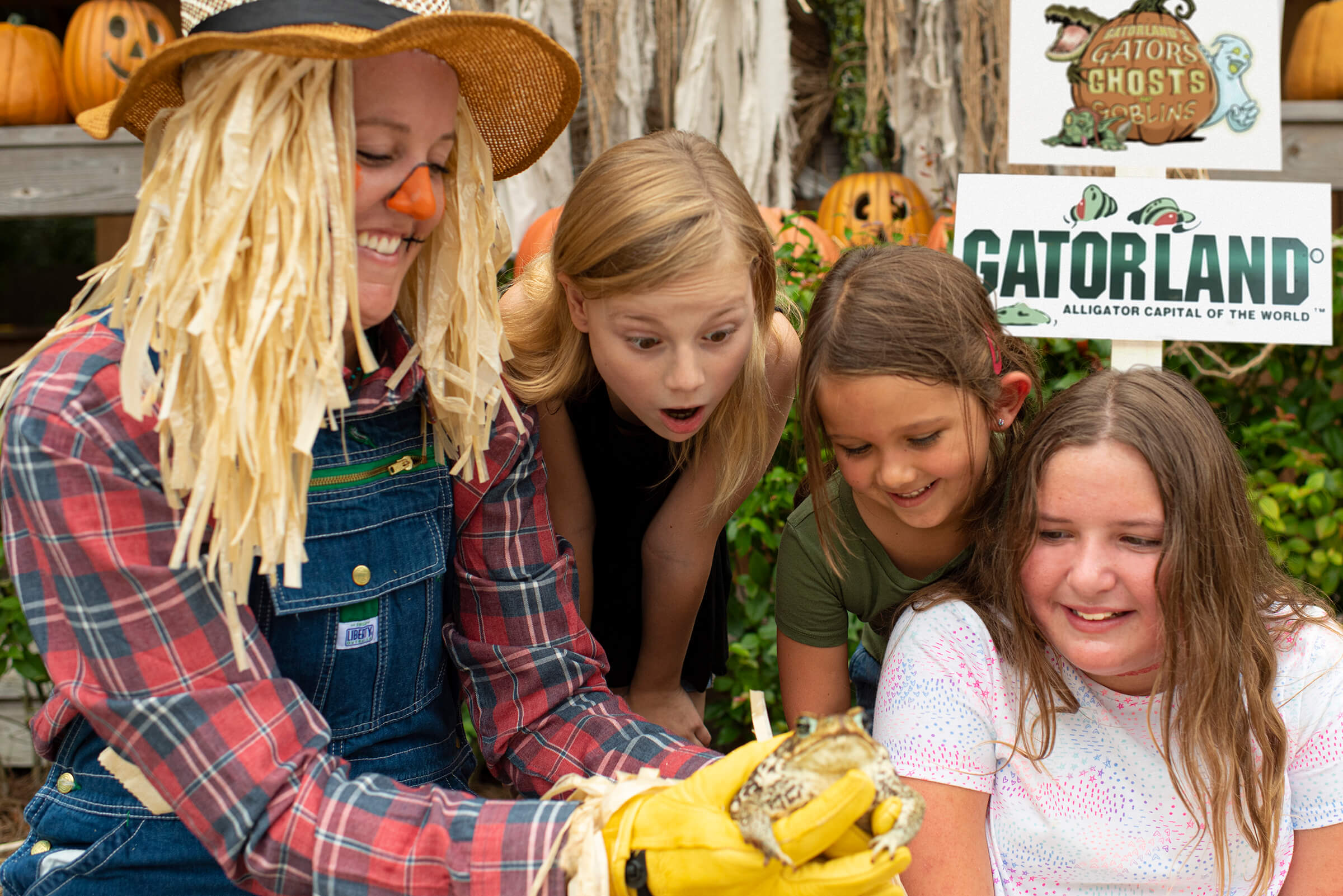 What is Gatorland Orlando?
Gatorland is a 110-acre theme park combining Old Florida charm with exciting experiences, exhibits, and entertainment. Originally opened as a roadside attraction in 1949, the park celebrated its 70th Anniversary in 2019. Today, it provides affordably-priced family fun featuring thousands of alligators and crocodiles, breeding marsh with observation tower, free-flight aviary, nature walk, petting zoo, educational wildlife programs, award-winning gift shop, Florida's best train ride, Gator Gully Splash Park, on-site restaurant, and one-of-a-kind shows including Gator Jumparoo, Alligators-Legends of the Swamp, and Up-close Encounters. Popular adventure experiences inside the park include the Screamin' Gator Zip Line and Stompin' Gator Off-Road Adventure.
For more Gatorland information, visit us online at www.gatorland.com or call 800-393-JAWS.
Be sure and keep checking back here at spokesmayne.co for more updates on Gatorland Orlando and all of the other theme parks during the upcoming holiday seasons. Don't want to miss a single scary second? Follow Spokesmayne on Instagram, Facebook and Youtube and become part of the Mayne Mafia.
Gatorland Orlando Press Release, Spokesmayne