Disney Genie service sets an October 2021 opening date for Walt Disney World
Walt Disney World and Disneyland are about to embark on an ambitious attempt to reimagine the guest experience. The "Disney Genie Service" uses a little behind the scenes magic (aka modern technology) to make your day at each Disney theme park as effortless and efficient as possible.
Like it or not, we're in a new age of information and algorithms. Algorithms and data fed to and processed by machine learning tools drive everything from traffic patterns to the price of goods you see online and what you see on your social media feeds. It's the sort of progress Walt Disney could only dream about when conceiving his Experimental Prototype City Of Tomorrow.
That project evolved into what we know as Walt Disney World and, while you may not be able to live there, you certainly can play there as the most magical place on earth celebrates its 50th anniversary
Walt Disney World is rolling out a new service it calls "Disney Genie." Built into the existing My Disney Experience app, guests will be able to use its many complimentary features to better optimize their experience when visiting the resort's iconic theme parks.
There are also enhancements available for an upcharge. The "Disney Genie+" and individual a la carte Lightning Lane (the new name for Fastpass) access at select attractions will be available for a price.
When will Disney Genie be available?
Disney Genie Service will roll out to guests on October 19, 2021 at Walt Disney World. The Disneyland version will come at a later date that's to be announced.
Guests will be able to start using Disney Genie to plan their day with attractions, dining, and other in park experiences before they get to the park and then easily make modifications to those plans as changes happen throughout the day.
Now realistically, many of us have been doing this for a long time, just through other methods (I have even seen people with binders!). Disney Genie bundles all of that experience up into an app, then brings it to a new level by giving it access to real time data direct from Disney's own systems, to make even a new visitor an expert at visiting the parks. Have you ever been in the parks and half way through or on your way out you get a text saying "How was your day at Magic Kingdom?". Yep, there it is.
This is what Disney Genie is supposed to do at least and we hope it proves to be true, as it would make those coming to Walt Disney World, especially those that are only able to visit every so often or even once in a lifetime. We'll see how well it works out when Disney Genie rolls out to the public.
What are the options with the Disney Genie service?
Now, there is a FREE version of Disney Genie. There is a lot here, though many always focus primarily on the paid portion. Here is what is included in the complimentary version of Disney Genie:
Personalized Day Optimizer. This takes your personal preferences along with Disney's own data and helps build an agenda for your day. It's customizable and will update on the fly as events change (such as an attraction going down or the availability of an attraction you marked as important changes).
Forecasted waits. The My Disney Experience app provides Disney's 'actual' wait times, but Genie will include what the forecasted wait is for any attraction. Fan sites have done their own version of this for years, but to have it from Disney is a nice option. I suggest comparing both the unofficial and the official forecasts and making your own judgment.
Virtual Assistant. Guests will have access to a chat window to help with any problems or questions they may have while using Disney Genie.
Existing features. You can currently access Mobile food orders, restaurant wait lists and reservations, and virtual queues through the My Disney Experience, but a few enhancements will make this a more efficient process for all guests using Disney Genie.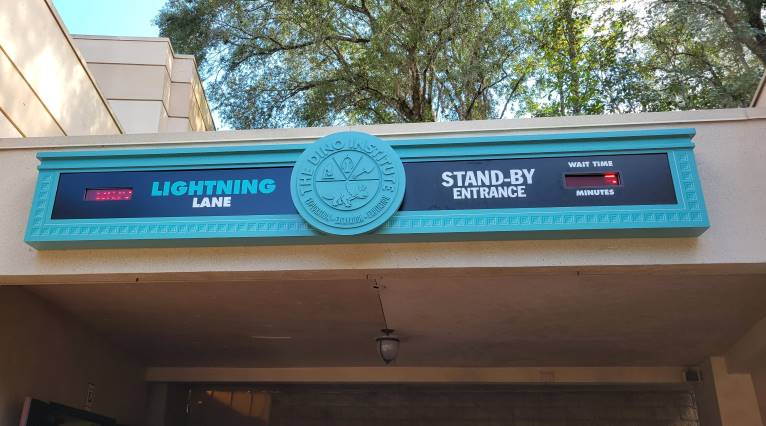 What is in the paid service – Disney Genie+?
The Disney Genie+ service will be available to buy ahead of time or at the park for $15 per guest, per day. There is currently no annual passholder discount or bundle, although that may be offered in the future based off guest feedback.
The primary feature of Genie+ is access to Lightning Lane entrances. These were the formerly free service known as Fastpass+. The new service works very similarly. You tell Genie+ which attraction you want to ride and you get a virtual place in line. Once you ride the attraction you can make another Lightning Lane reservation.
If the reservation is more than 2 hours into the future, you will be able to select an additional Lightning Lane attraction reservation at that point.
Another feature of the Disney Genie+ are some fun PhotoPass AR Lenses. If you're familiar with Snapchat or Instagram filters, then you get the idea. These come with Disney magic of course, and frankly, I am pretty excited about this.
Some of the AR Lenses will be usable from home, but some only appear at the parks and even at specific spots inside the park. there have been previews for Genie, Lady & The Tramp, Ratatouille, and Maleficent. I know that we will be trying these out for sure.
Disney is also offering unique Audio Experiences on the app. These will be like anything from a special tour of a location to a special story told by a Disney character.
You will also be able to purchase Individual a la carte Lightning Lane Entrances on select attractions at each park. These times are fixed and your Disney Genie app will build your daily schedule around those times. Prices have not been released yet for these individual purchases but they will be limited to two a day. Again, we will be covering Disney Genie for quite a while especially the updates and changes as things come out.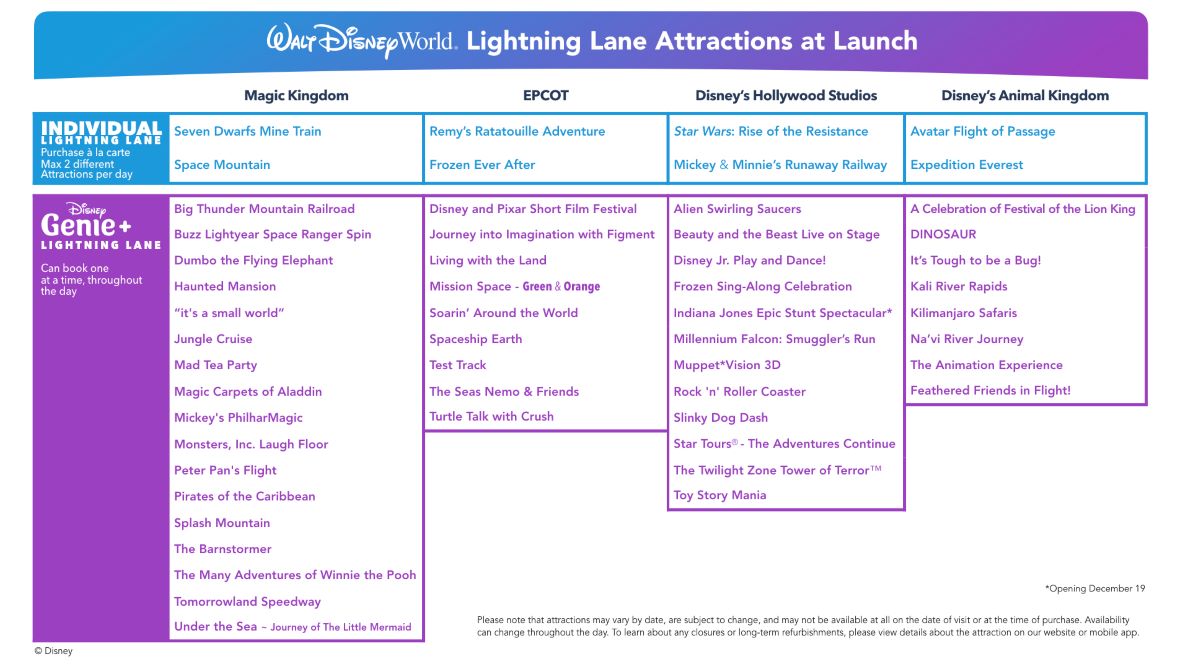 I know that this is a lot to digest and we will be going over it more and more as time gets closer as well as navigating it our self on stream and through Instagram and Facebook. So strap in guys, it is going to be a wild ride!!
Spokesmayne; Disney Parks Blog