Ahoy Mateys! Serendipity Is Ready for Boarding, Captain!
Today, I am thrilled to be back at Give Kids The World Village for the Grand Opening of their newest 'attraction' Serendipity II.
Serendipity II is Give Kids The World Village's brand new themed pirate ship stage. Located at the Park of Dreams pool, the stage is used for outdoor entertainment events including the Village's popular Once Upon A Village party featuring pirates, princesses and mermaids.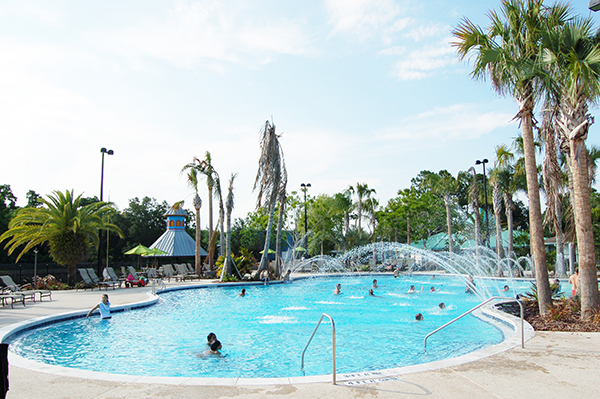 Park of Dreams
The Park of Dreams features an interactive water garden and a wheelchair-accessible pool where children of all abilities can experience flowing, jetting and misting water fun. This is home to Serendipity, an 80-foot long ship complete with a stage for many of our nightly entertainment shows. If families are looking for a snack, Noah's Nook offers hotdogs, popcorn, ice cream and more.
Standing here at the pool area, I just wanted to jump in, ride the slides, stand under those awesome water fountains! How fun would this be. But even more, imagine as a parent what it would be like to have your child be able to experience this amazing place, just having fun, not having to worry about doctors, medicine anything but well, when you are going to play in the pool and if you are going to get more ice cream! LIke a feature you would expect to see at one of the major Orlando theme parks, this area is pretty awesome! It's impressive masthead figure on the ship is the maritime cousin of the seahorses on Give Kids the World's Enchanted Carousel. Some other cool features are:
16' x 9' LED screen to show Dive-In Movies
Wheelchair-accessible stage for poolside parties
Fun photo opp features, including an animated parrot and interactive ship's wheel

The ship is constructed of a 100% aluminum frame and cladding, with Poly
Gem added to create the look of real wood. The ship was built off-site, and then disassembled and delivered to the
Village for a two-day installation at the end of April.
Another cool fact is that due to the proximity of the Village to the airport, the masts had to be approved by the FAA due to their height (74 feet).
The new Serendipity themed pirate ship stage was christened today at this fun and whismical swashbuckling celebration complete with marauders, mermaids and magic! In attendance to take pride in what they accomplished were SteamLabs Design Group, Icarus Exhibits Orlando, Electrosonic AV Design and SNA Displays for their design and craftsmanship, and to the Don and Lorraine Freeberg Foundation for making the project possible.
Pictured with the visiting mermaids are Give Kids The World President and CEO Pam Landwirth and SteamLabs Creative Director Michael Ingrassia (above).
There was a lot of good cheer, along with the mermaids, pirates and swashbucklers and we got to see some friends as well.
Honestly, I think this will be one of the most popular places to hang out at Give Kids The World Village and definitely one of the coolest! (It is a water park, get it…). Check out my Instagram story below for the highlights of today's amazing Press Event.
https://www.instagram.com/s/aGlnaGxpZ2h0OjE3ODk5NzkyODExMTQ1NTA4?utm_medium=share_sheet
Thank you to Give Kids the World for having me out today so that I can share this awesome day with you. If you watch my channel, you know that Give Kids The World Village holds a special place in my heart and we do as much as we can here on the channel and throughout the community to raise awareness and funds for the Village every year. That being said, stay tuned for an announcement coming very soon!
Give Kids The World Village; Spokesmayne